The 2018-2019 Ram Light Duty Truck Towing Capacity Quick Guide
Which Ram Truck Will Tow the Most without Breaking the Bank?
Need to know which Ram truck is going to get you the highest payload and towing capacity,
and which Ram Truck will give it to you?
This is the quick and dirty, straight to the point,
no BS guide to the 2018-2019 Ram Truck towing capacity,
listed by  and what configurations will get you there, and price point alternatives.
In order by max towing capacity and then by price.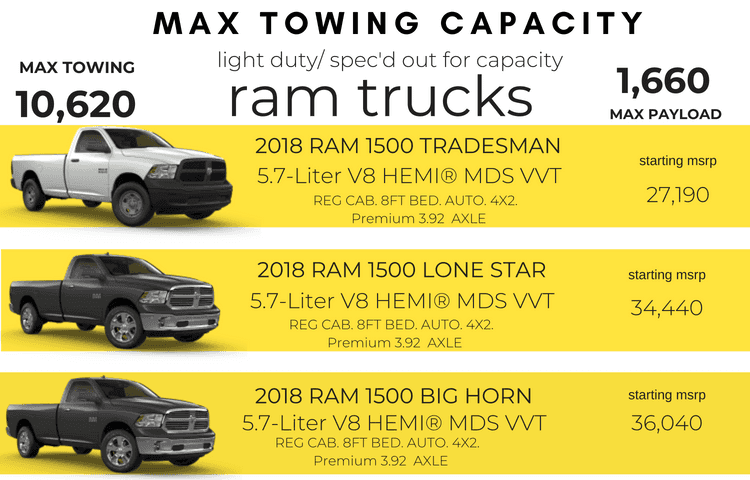 For light duty Ram Trucks, the most economical way to get he highest towing capacity:
2018 RAM 1500 Tradesman with the 5.7 HEMI (with the MDS VVT), with a regular cab
and an 8 ft bed, and 4×2 drive, needing that premium 3.92 axle, that's the ticket.
VVT stands for variable valve transmission.
NOTE: I know, I know, we are in New England and you are probably wondering
why I am talking about a 4×2….DON'T WORRY, the 4×4 tows just SLIGHTLY less,
counter-intuitive if you ask me, but just slightly less.
And if you want to check out a pretty in depth review on the 2019 1500 Tradesman here is a cool video: