The Ultimate Guide to Towing Capacity with the Ram 1500
The Ultimate Guide to Towing with the Ram 1500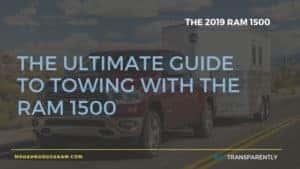 If you are trying to figure out if you can tow whatever it is you are trying to tow. It can be a little confusing because all these facts and figures get thrown around by the truck manufacturers, with an asterisk, and a disclaimer about which package you need to add on to which model. And all you want to know is can you tow your trailer, or boat, or work equipment.
It seems like you can't get a straight answer because you've probably heard something like "ONE trillion pounds….but…." Or, "when equipped with" OR, "well it depends on the cab and the size of the bed".

All these things are true, (aside from the one trillion pounds part that was an over statement), but you still don't feel like you can confidently tow what you need to tow. You need to know your total weight. Knowing your Gross Combined Vehicle Weight (GCVW) will give you an idea of how much capability you'll need.
Let's talk about some of the features that affect towing capacity and the GCVW first.
The Cab Size Affects Towing Capacity
A Regular Cab truck seats up to three passengers for maximum towing and payload capacity. By limiting the number of passengers, more of your vehicle's Gross Combined Vehicle Weight Rating can be devoted to towing/payload
The Quad Cab seats up to six passengers for a good balance of passenger comfort and greater towing/payload capacity.
The 2019 Crew Cab is longer than earlier models and still seats up to six passengers comfortably, while providing even more room for storage, passenger room, reclining seats and more. Because it focuses more on passengers, this Crew Cab may increase your truck's curb weight.
The Box Length on your Light Duty Truck Affects Towing Capacity
Box length is about more than just how much cargo you can fit. It also affects how much your
truck can tow and haul
. Knowing how you're going to use your truck is key when choosing a box length.
A truck with a shorter box length generally has a lower curb weight, which translates to slightly higher towing capability.
6-Foot 4-Inch Box
The 6-foot 4-inch box is the perfect compromise between maximum towing and maximum payload capability.
8-Foot Box
The bigger the box, the bigger the cargo. With an 8-foot box, you'll be able to handle payload with greater volume and greater mass.
The Transmission's Effect on the Towing Capacity
With an automatic transmission, the vehicle automatically shifts gears as needed. However, all Ram trucks and pickup-based chassis cabs include Electronic Range Select (ERS) with all automatic transmissions. ERS allows the driver to limit the highest available gear. It can be activated during any driving condition. When towing a trailer, using ERS shift control will help you maximize both performance and engine braking.
The Wheel Drive System
Two-Wheel Drive
A two-wheel-drive vehicle sends power to only two of the four wheels. On a pickup that typically means the rear wheels, making it a rear-wheel-drive vehicle. The curb weight of a 4×2 vehicle is generally lighter than a comparable 4×4 vehicle, which translates to slightly higher towing and payload capabilities.
Four-Wheel Drive
A four-wheel-drive vehicle sends power to all four wheels. Generally, 4×4 vehicles are slightly heavier than 4×2 vehicles and offer greater control while driving on slick or uneven surfaces.
The Axle Ratio
Finding your ideal axle ratio will be a compromise. In general, a higher axle ratio offers more towing power and quicker acceleration, while a lower axle ratio offers better engine efficiency and quieter vehicle operation. Ram trucks come in a variety of axle ratios. Find the balance of power and efficiency that works best for you.
And to wrap most of it up….
What does all that weigh, usually?
Yea, good question because I would have guessed all of these wrong.
So here is just an average idea of what things weigh that are commonly towed, just to give you an idea.
TRAILERS
Boat trailer: 300 – 1,512 pounds
6 x 4 box trailer: 430 pounds
7 x 5 box trailer: 507 pounds
Car trailer: 2,800 pounds
Equipment trailer: 1,600 pounds (aluminum, 6'8″ x 24'6″)
Horse trailer: 2,400 pounds (unloaded)
Kayak trailer: 220 pounds
BOATS
Canoe / kayak: 50 pounds
Motorboat: 2,500 pounds
Sailboat: 7,000 pounds
CARS
Racecar: 1,600 – 3,500 pounds
Sedan: 3,000 pounds
Station wagon: 3,600 pounds
Pickup truck: 5,500 pounds
RVS
Fifth-wheel trailers: 19,000 pounds (3,126 pounds trailer tongue weight)
Travel trailer: 5,000 – 12,000 pounds
Camping trailer: 3,000 pounds
Truck camper: 3,500 pounds (unloaded)