What is the Best Price for that Used Ram Truck?
What is the Best Price for that Used Ram Truck or Promaster?
It's no secret, shopping for a new or pre-owned vehicle is nobody's favorite…
such  a large investment like a truck or work vehicle.
We often find that 3 major reasons that people dislike shopping and buying a used car so much:
1) getting taken advantage of and paying too much for a vehicle,
2) buying a pre-owned vehicle with problems,
3) not buying the right vehicle for their needs.
But mostly, you are probably worried about price, and making sure you're getting a good deal when looking to buy a pre-owned car, truck, or suv.
You probably did a ton of research online looking for a pre-owned vehicle already, or maybe you are just getting started.
But with the huge amount of information available to you all just a click away, used vehicle pricing is predominantly based on
current market value. Meaning, the vast majority of dealers are pricing their used vehicle inventory based on the live market.
We have the ability to look at the live competitive set of like vehicles with a special program that searches
all the used cars on the internet so that we can assess transparently what the best price for a specific vehicle might be.
So I haven't really answered your question yet, have I?
In short, the best price on the vehicle is based
on the market competitive set based on the make and model, trim level, equipment,
miles on the vehicle, and whether or not the particular vehicle can be certified.
(Many manufacturers offer Factory Certified standards and these factors are considered when evaluating price)
Let's look at an example.
What's the best price for a 2014 Ram 1500 Big Horn Extended Cab with a 3.6L V6 with 61,133 miles that's been manufacturer certified?
As of the day this post is written, going out looking in and outside of our market there are only 6 of these Ram Trucks!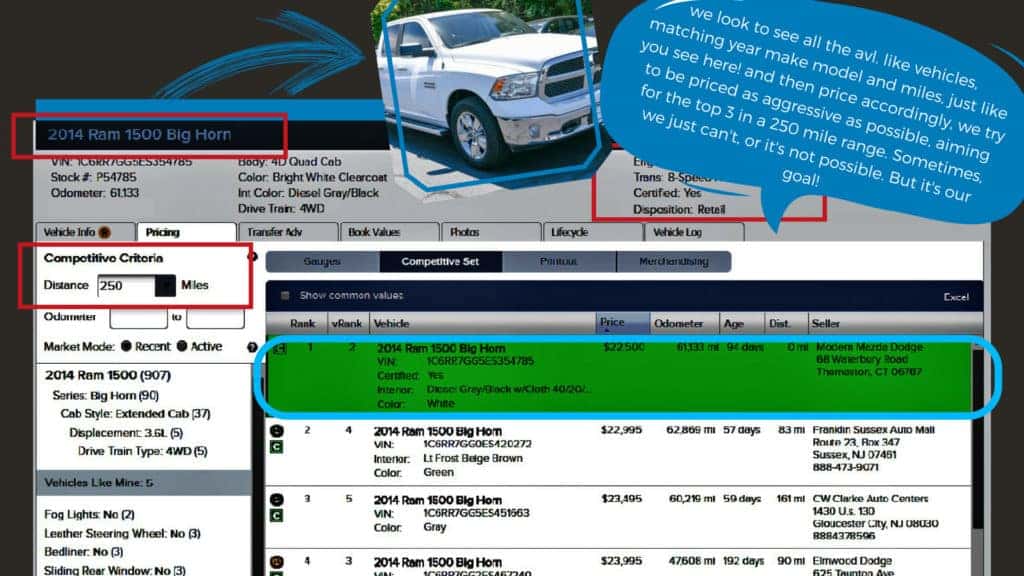 Our best price on this 2014 Ram Truck  is  evaluated by comparing against all the
other like 2014 Ram 1500 Big Horns with like equipment within a 250 mile radius.
This way, being the lowest isn't a scheme, it's just good business.
Which means, we have to price our cars right, (but that's not for you to worry about, that's for us to worry about 🙂 )
….. and then this way, when you are looking for a car, we take all things into account, the year make model,
taking mileage and additional trim level or packages into consideration. 
I can't attest to all used car dealers having the same strategy,
but ours is trying to get the best most market evaluated price to
the right person who needs this truck for their lifestyle or work needs.